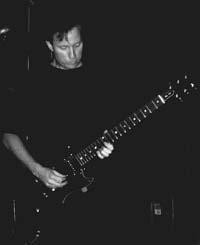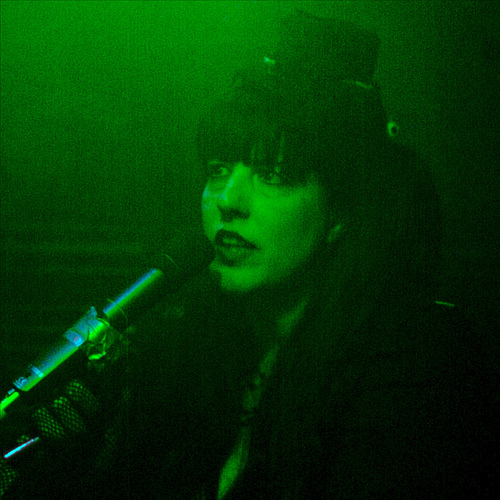 Terri Kennedy - voice  Dave Rhine - guitar

Jon McFerson - bass; Stephen Sandman Sands - drums  


Formed in 1992 in Fullerton, California by guitarist Dave Rhine
and vocalist Terri Kennedy, Stone 588's brooding, intense, tribal
sound has its roots in the early '80's post-punk era of Killing Joke
and Siouxsie and the Banshees, traversing a dimly lit path of rhythmic
darkness. (The roster of members has included Jon McFerson (bass 1992-1994;1995-1997; present),
also known for his work in the Arrogants,Eileen Bowe (bass, programming 1997-2000), 
also known for Dichroic Mirror and Strychnine FX; 
Tony Sequido (bass 1994-1995; 1997-1999), Paul Rocha (drums 1992-94; 1995-97), 
Larry Salzman (drums 1994-5;), Romeo Pastanas (guitar), Jose Sanchez (drums 1992-93), Adam Haynes, 
Phil Hanson (drums), Mike Burton (drums)..sorry if we forgot anyone!
Comprised of ferocious rhythms and sinuous, liquid guitars awash
with rippling, cavernous sounds emanating from beneath a murky depth, Stone
588's songs explore nocturnal emotions with vocals ranging from sensually
captivating to fiercely chilling. Stone 588 draws their name from the
legend of a Druid's Altar in County Cork, Southern Ireland. Under the
stone circle, the cremated body of an infant, a human sacrifice, was found
concealed in a large urn, whose burial dates back to c588 B.C. Stone 588
has shared bills with acts such as Shadow Project, Rozz Williams, Praise of
Folly, Human Drama, Eva O., Usherhouse, Prophetess, The Last
Dance, Astro Vamps, This Ascension, Babyland, and Dave Vanian.
 
Terri Kennedy (vocals) who began her musical career in various punk and experimental bands in the 80's 
and toured with Faith and the Muse on their 1995 U.S. Procession tour. 
She has also contributed vocals to recordings by Dichroic Mirror, Hexedene (cd "Bullet Proof Divas") 
Schattenschlag (cd "Flashback"), Lidless Eye Flicker, Wire Junky and Strychnine FX.

Dave Rhine (guitar)whose influences include Killing Joke, Black Sabbath and the guitarwork of 
late Siouxsie guitarist John McGeogh, has performed in many punk and gothic bands over the years, 
including Dead End Kids, Guts on the Floor, Lycanthropy.

Jon McFerson (bass) cites Xmal, Deutschland, Slowdive, Curve, Lush, Jamiroquai, Kraftwerk, 
Gary Numan as influences. He also has played in the following bands: Guts on the Floor, Lycanthropy, 
Lone Raspberry, Kingston 10, Dead Xtras, The Loose, The Beings, The Arrogants, Changes Daily.
He and Dave also play in I Still Have Nightmares.




Stone 588's three cassette releases include, Eyes Of A Statue, Eden Lost,
and Catharsis. The band also appears on Anubis Recordings' "Disease of Lady
Madeline" CD, compiled by X of San Francisco's House of Usher club,
ReConstriction's "TV Terror" and "Songs From the Wasteland" cds, Cleopatra Records' Siouxsie tribute
"Through the Looking Glass" and their unsigned band comp, "The Unquiet Grave", 
as well as Thee Vampire Guild's "What Sweet Music They Make Vol. 2" from England, 
two compilations, "La Nigra Opera and "Children of the Damned" from Germany's Apollyon label, 
A Cure Tribute, "15 Imaginary Songs" and "Forevermore" a Mission Tribute on Equinoxe, Germany,
Projekt's "A Cat Shaped Hole in my Heart," "Witchraft" on Cleopatra, "The Challenge From Beyond" on Dion Fortune. 

Several compilations feature Stone 588 material including 

Cleopatra's Edgar Allen Poe tribute for which the band contributed "Momento Mori," 
 Rozznet's Rozz tribute cd collection, with Stone 588's cover of "Dream for Mother," and 
Cleopatra's romantic themed cd, "Kiss the Night," which contained the Stone 588 track 
"The Enclosed Garden."

Featured on several Los Angeles area cable television shows, Stone 588 also guested on KSPC and
KUCI gothic radio programs and received international airplay and print
media attention.

Stone 588's 21 song debut 1995 CD, Door in the Dragon's Throat, compiled re-recorded
and remixed material selected from other successful releases of their
material, as well as six new tracks. The CD opens with the atmospheric and 
rhythmic "Lightning Rails", which had already received generous airplay 
from the "Disease.." comp, followed by the melodic 
"Paradise Fields," "Shards to Sheaths," an ethereal track, 
the driving and powerful "Contrition," "Door 
In The Dragon's Throat," the moody title track, the 
harder-edged "Ruination," and the brooding finale, "Of the "Ambush of God."

Stone 588's sophomore CD release "Midnight Claret" 
released in 2000, includes "For Madmen Only,""Momento Mori" and "Tumulus," exclusive 
unreleased tracks  "Terra Incognita" and "Leaf and Head," a rare compilation track  
"Conversations With Chaos" and more

Stone 588 has also re-released their early cassette material on a full length cd "Eden's Eyes."

Several tracks from the "Door in the Dragon's Throat " cd appear in the independent vampire-themed film, "Circle of Five."

To receive a Stone 588 merchandise catalog or further information send
$2.00 to Ipso Facto at 517 N. Harbor Blvd., Fullerton CA 92832 ($4.00 if
overseas $2.50 if in Canada or Mexico).
Eden Lost & Eyes of a Statue cassettes retail for $6.00 ea. plus $2.00
freight . CDs are $14.99 each plus $2.00 freight.

U.S. and International Distribution:
Metropolis - 238 N. Governor Prinz Blvd. Lester, PA 19029


Stone 588 Press Highlights:

Industrial Nation, Chicago IL- "A unique and inspiring breath of fresh air
in the goth vein"

Under the Black Rose, Italy- "One of the excellent examples of the rebirth
of goth in the 90's"
Suffer Magazine, Italy- "Stone 588 are able to create amazing new anthems
of original ethereal wave"

Fight Amnesia, Germany- "The best we've received in the last months. Highly
recommended!"
Mark Alan Garza"Stone 588 is a very innovative and refreshing band.Just when one is about to 
give up heartlessly on trying to find "that
band",Stone 588 suddenly pops into the picture and it is splendid!Combining many elements of 
musical styles,Stone 588 sounds
as classic as old school goth and as refreshing as the newer styles of goth.Playing with 
influences which could be bands such as
Mephisto Walz,Christian Death,Dead Can Dance,Cocteau Twins,Siouxsie,this group of talented ones 
take the listener on a
truley mind-altering trip... I just hope that Stone 588 plays South Texas!"
Back to the homepage