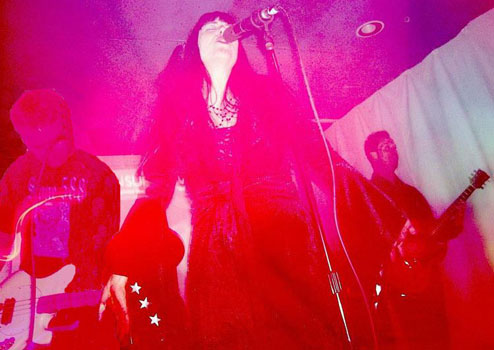 Jon McFerson++Terri Kennedy++Dave Rhine

Stone 588's entire 3 cd catalog is available through Ipso Facto. At CD Baby you can buy "Door in the Dragon's Throat," and "Midnight Claret." CD Baby accepts paypal.
Stone 588's third cd "Eden's Eyes" is a 19 song compilation of 1993-95 cassette releases "Eden Lost" and "Eyes of a Statue" available exclusively at Ipso Facto.


Write Stone 588 c/o Ipso Facto 517 N. Harbor Blvd Fullerton CA 92832. 714-525-7865
Interesting factoids:
Stone 588 songs, "Ruination," "Tumulus" and "Momento Mori" appeared in an independent vampire movie by Michael Walker called "Circle of Five."
Stone 588's final two compilation appearances were "Dreams for Mother," on "The Tongue Achieves the Dialect" a Rozz Williams tribute cd, and "The Enclosed Garden" on Cleopatra's 2002 romantic themed comp, "Kiss the Night."
Also currently recording and playing live is Terri & Eileen Bowe's new band Strychnine FX.
It was nice to find this poem online by James Chambers The Siren inspired by Stone 588's "The Enclosed Garden." Thanks James!
See Stone 588 on MYSPACE here.
Stone 588 vocalist Terri is on Facebook: here.


Email us if you would like to contact us.
Stone 588 on the airwaves
Found some wonderful DJs on www.live365.com who play Stone 588 on their stations.
Thanks for the following for your support!
http://www.lestats120minutes.net/
www.shadesofgreyradio.com/
www.live365.com/stations/theblasphemybros (radio nightshift)
http://www.live365.com/stations/twinightradiodj
http://www.live365.com/stations/medievalbob (faery voices)
Also if you are a DJ and want some Stone 588 tunes to play, please email Terri at
ipsofacto@ipso-facto.com


Navigation by WebRing.

Navigation by WebRing.